As the world starts to recover from the worst economic ravaging in generations, you need to make sure your business is ready to react and claim those much-needed sales. But budgets are tight, time is short and your competitors are thinking exactly the same thing.
So what are you going to do about it?
Times have changed. The rules on customer behaviour, marketing strategies and sales targets have all been torn up and thrown away.
If you're reading this, then the chances are you're an open-minded, analytical thinker who understands the immense power of your customer data at this critical time.  You'll want to see how customer behaviour has altered and know whether your business can respond to this with precision and speed.  You'll want to identify immediately where your data capabilities may be holding you back.
That's why we've created Refocus – a free data capability test that scores your business on how well your data is helping you to succeed.
And best of all, it only takes 20 minutes to complete.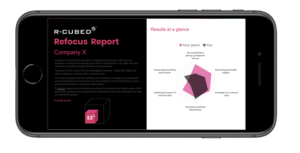 Discover how you measure up against your peers in six key areas of success:
Joined up data
Actionable insights
Customer value
Marketing effectiveness
Real-time engagement
Marketing attribution
You'll get a personalised and independent view on what's holding you back, as well as clear priorities to improve your data capabilities.
We'll show you how you measure up against your peers and give you a clear view on how to refocus with precision and speed.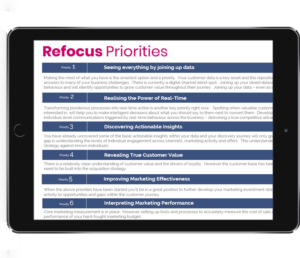 We won't ask you to send us any data and all your information is kept confidential.  And we guarantee you'll find the results well worth the 20 minutes you'll invest.
If you're ready to refocus your own marketing efforts, why not get in touch?