Your priority is clear. You need to do everything to hang onto your customers, before your more agile competitors take them from you.
So what are you going to do about it?
Speed and Relevance is everything right now
To be on the winning side, you're going to need to be able to spot changes in behaviour and react quickly, effectively and based on accurate data. Intelligent use of data will be the difference-maker in the battle ahead.
Do you know how you compare to other companies in your sector? Who has the advantage in understanding and using their data?
We can help you find out.
Find out how you compare on the 6 data essentials in just 20 minutes
Our Refocus tool will give you the answers. In just twenty minutes, you'll be able to benchmark your own use of data and see how you compare to others on the 6 essential data capabilities.
Plus, your free report will reveal the right data priorities to help your business succeed and how to respond quickly to the opportunities available to you. You'll get clarity on what you need to do to win the battle for not only your customers, but those of your competitors.
Watch our video above to find out exactly how Refocus will benefit you. The output is free, it takes just twenty minutes and it could be all the evidence you need to secure the budget to invest in the right activity.
Then, register your interest and we'll be in touch to help you generate your free Refocus report.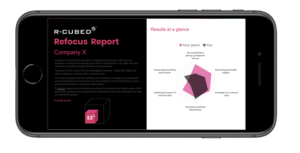 You'll get a personalised and independent view on what's holding you back, as well as clear priorities to improve your data capabilities. We won't ask you to send us any data and all your information is kept confidential. And we guarantee you'll find the results well worth the 20 minutes you'll invest.
Discover how you measure up against your peers in six key areas of success:
Joined up data
Actionable insights
Customer value
Marketing effectiveness
Real-time engagement
Marketing attribution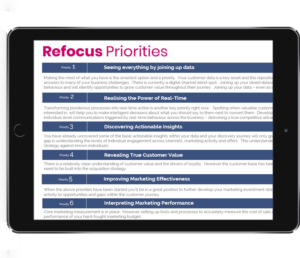 If you're ready to refocus your own marketing efforts, then get in touch today.