We're delighted to announce that our work with Ageas on creating their Engagement Hub has been shortlisted for a Masters of Marketing Award.
Data can be the driving force that gets you to where you want to be, so when Ageas asked us to help pull all of their data into a single place and ensure it could be passed to every touchpoint in the business, we were delighted to accept the challenge.
Once all of the data – including policies, quotes, even browsing history – was in one place, we were able to ensure that everyone in the business had access to the data, including the call centre, for real time decisioning and personalisation.  This mean that when taking a call, the agent could not only see all of the relevant data, but also knew the next best action for each customer.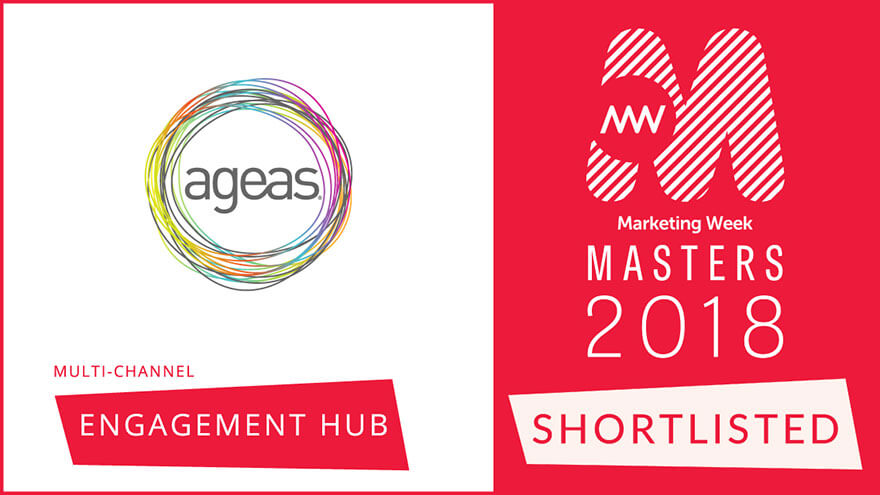 The Engagement Hub has had such an impact on the business, that it's been shortlisted in the 'Customer Experience' category of the Masters of Marketing Awards and we're very proud that it's now helping Ageas get the right message to the right customer, right now – online or by telephone – in real-time!
"Having access to real time data for every customer can really transform a business and improve the customer experience beyond recognition.  We're really happy to have been able to deliver this for Ageas"

Jo Young, Account Director
The project has been truly ground breaking and has returned a 40% increase in sales rates from incomplete quote recovery, a 20% uplift in add-on revenue and a massive ROI of 198%.
Want to see how our team drove the results home for Ageas? You can read the short case study here.