Direct mail used to dominate direct marketing. Companies such as Capital One and Reader's Digest would flood the nation's letterboxes with millions of mail packs every month. And equally, customers would moan about the deluge of 'junk mail' hitting their doormats.
Those days are, without a doubt, over.  Websites, apps, email marketing and a host of other low cost digital channels have made direct mail an unpopular choice due to its relatively high cost and slow delivery.
Yet, direct mail is far from dead.  In 2017, companies spent £1.8 billion on direct mail campaigns and recently we've seen mailings from digital giants such as Amazon and Google.  As the digital landscape gets more and more crowded, direct mail clearly still has a place in a multi-channel marketing strategy.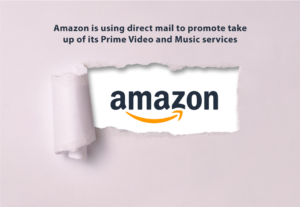 Direct mail has also been given a boost in recent months as a result of GDPR, as the medium can still use legitimate interest as its basis, rather than the more onerous consent.  So it's fair to assume that we'll see further increases in DM spend.
Let's peek through the letterbox at what's happening with direct mail…
Is it effective?
The simple answer is a firm 'yes'.  Direct mail is still a very effective marketing channel.  Let's have a look at some of the stats around direct mail from the DMA-
Around 57% of all direct mail is opened and read. That compares very favourably to a typical open rate of just 24% for email.
Direct mail hangs around. Research tells us that direct mail will stay around in the home for anywhere up to a month, giving repeated opportunities for the reader's attention.  It's a tangible medium and a well-designed pack can engage the reader in a way that other media.
Compare that to how quickly an email sinks to the bottom of your inbox.  Out of sight, out of mind.
9% pass on the mail or leave it out for another person and addressed mail is re-visited 4.2 times on average. How many time do your customers revisit your emails?
Response rates are typically over 4%. That's huge compared to email at 0.6%, and social and online display at less than half a percent each.   
Beyond the immediate sales figures, direct mail can also be good for your brand.  Customers generally like direct mail – perhaps because they don't receive so much of it nowadays.  But they also think better of businesses that use it and are more likely to believe in the message.
Obviously, the performance of direct mail varies by industry, as well as the quality of the campaign.  But the underlying message is that direct mail works.
So how to best use it?
Making direct mail work for you
Targeting the right individuals  
As with all marketing, targeting and relevant content is the key.  Direct marketing is a more expensive channel, and you need the discipline to understand where you should be investing your budget.
This means not only understanding the value of your customers, but also their channel responsiveness and buying habits.  Do they shop online, in-store or both?  How do they respond to your other channels?  Do they spend a long time browsing your site, or are they more impulsive buyers?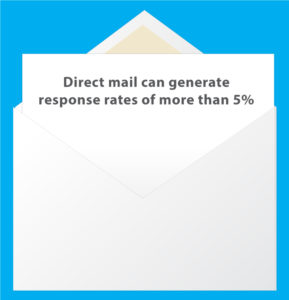 All these factors, as well as some basic demographics, can help inform your targeting strategy.  And as always, your content should be relevant to their interests.
A well-designed test will give you enough insight to build a powerful targeting model – bespoke to your business – which will guarantee a great return on investment for your direct mail campaigns.
Personalising the message
Direct mail is where customer personalisation really comes into its own.  Although all channels should personalise as much as possible, there's still something special about receiving a nicely personalised pack through your own letterbox.
Through the clever use of data analytics and thanks to advances in marketing automation – copy, images, offers, money-off vouchers – can all be effectively personalised based on what you know about your customer or prospect.  Then, as you would do with your emails or on the website, include a personalised call-to-action by providing the contact details of the nearest store to visit, for example.
Customer and prospect engagement will improve by sending them something of genuine interest and letting them know that you know and value them.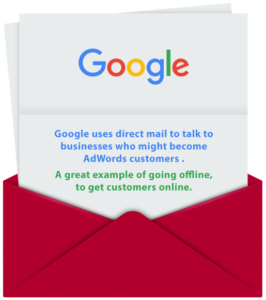 Integrating with other channels
Like any channel, direct mail works best when it's part of an integrated marketing strategy.  But what does this mean in practice?
Test combinations of media. Does a direct mail pack work better when followed up with an email? If you've sent them a mailing, and they then visit your website, why not send a highly personalised email in real time to help make the sale?
Ensure consistency of message and creative. Don't send your mail pack out in a courier font if you use arial on your website.    Let people know that it's the same company with the same great products, however they choose to do business with you.
Don't cannibalise other channels. There's always a danger, especially where channels sit under different owners, that everyone is sending different messages through different means to the same customers.  For example, don't launch your new season products by mail at the same time as a 50% off sale by email (or any other channel).   You'll confuse your customers and damage the effectiveness of your campaigns.
Having all your multi-channel data in one place allows you to manage your integrated marketing strategy easily at an individual level – and to add direct mail seamlessly into the channel mix.
A future with direct mail
We're not here to promote direct mail above any other channel.  We're data marketing specialists and our strength is in knowing which tool to use for which job.  Preferring one channel over another would be like preferring a screwdriver to a hammer.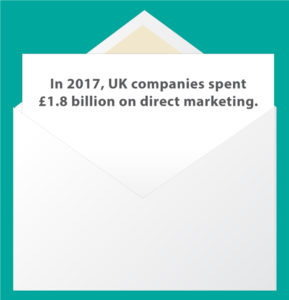 But we know that many of our clients still value the returns that direct mail brings them, as part of their marketing strategies – and have the ROIs to prove it.
If you've got your data under control, you'll be able to use your Single Customer View to identify those customers who will respond to direct mail and even automate and personalise the campaigns, just as you can with any other channel.
If you'd like to make direct mail to your marketing strategy, we'd urge you to test it.  And if you need a helping hand on best practice, we're here to help.    Just send us an email.
Or even a letter.