Have you mapped out your customer journey communications?  A well-thought-out customer journey can maximise results at each stage of the journey and generate huge increases in sales and profits by delivering more engaging, personalised communications.


Not only do your customers benefit from having more relevant and timely information, but you increase revenue by targeting increase the right cross-sell and up-sell messages, getting the right message to the right person at the right time.
But when it comes to designing a customer journey programme many businesses have never gone beyond a standard welcome strategy and a last ditch attempt to reactivate dormant customers.
With an ever increasing number of touchpoints and real-time interactions it is more important than ever to 'join everything up' into a holistic and consistent view of the customer journey,
In this series of five articles, we look at the key stages of a customer Journey programme and how you can use technology, combined with your knowledge of your customers to drive real value at every stage.
This month, we look at the planning and consideration phase.
Step 2 – Planning and Consideration
Once you've attracted prospects through building awareness, your job is now to convert them to customers.
For many industries beyond a simple, low cost purchase, this will involve some degree of consideration on the part of the customer.  Holidays, cars, financial services, furniture, electronics – few customers are likely to be making a purchase on their first visit or without any research.
So you keep them deeply engaged with your brand and within easy reach of your buying routes – not your competitors'.
But what sort of tactics should you consider?
Know your prospects better than the competition
Knowing your prospects better than the competition is the first step to getting the upper hand in the planning and consideration stage – it gives you the power to be more relevant and timely.
If you've already built your Single Customer View (SCV) with combined online and offline activity, then you'll already be gathering data about your prospects whenever, and however, they interact with you.  You'll know any previous purchases and enquiries that the prospect has had with your company, however that contact was made.  You'll know the best channel and the right time to contact them.
With real-time monitoring, you know their intent to buy and clues to what they are planning and considering.  You'll be able to see when they're been on your website, how long they spend browsing and what they're looking at.
And, with the right expertise, you can even know more about when and what your prospects wants to buy – maybe even before they do.
Having this single customer view insight at your fingertips can improve prospecting marketing efficiency by 20%.  See how we helped Lands' End here.
Personalise your website to keep visitors engaged
Unlike a shop window on a high street, your website has the potential to change according to whoever is browsing.
38% of people will leave a website if the layout or design is unattractive, according to research by Adobe.  So having succeeded in getting someone to visit your site, you have just seconds to impress and make sure that they continue their planning and consideration phase with you.  A visitor will view and close a screen literally in the blink of an eye.
What's more, according to a study by EmpathyBroker, only 13 percent of UK consumers know exactly what product they want to buy when they visit an ecommerce website.  So there is plenty of reason to make your website the best possible experience for every visitor that you can.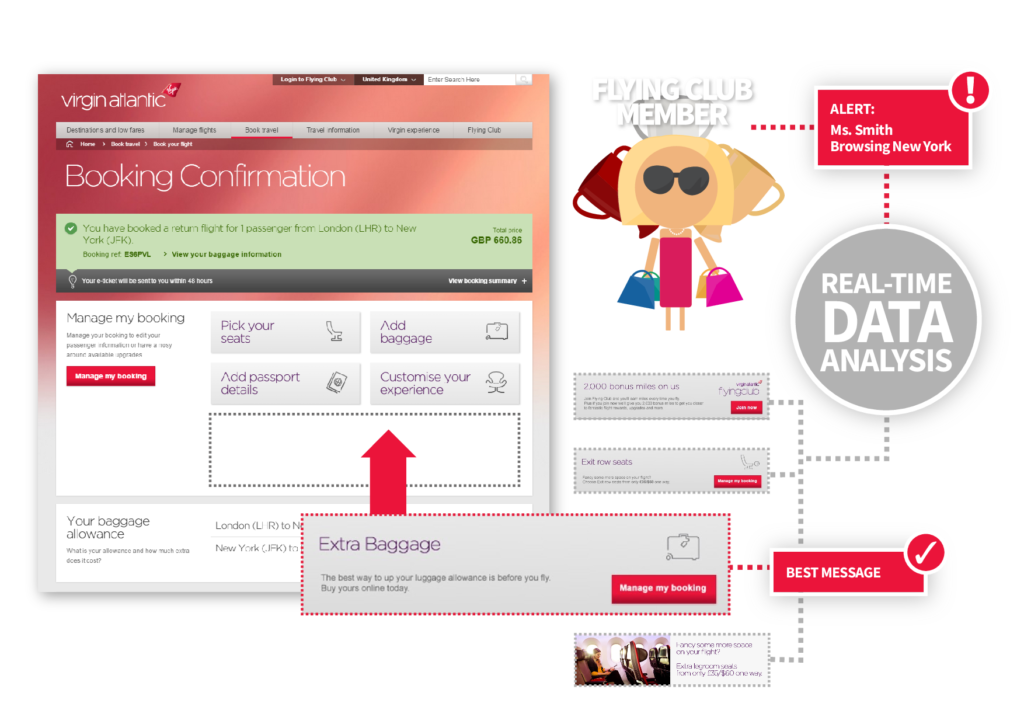 R-cubed know that personalising a website can increase sales by up to 30%, especially when it is driven by your online-offline SCV or Engagement Hub.  You can see examples of how effective this can be in our Ageas case study.
With just the addition of a simple line of code, your website can seamlessly change for each visitor, making sure that the content is relevant to them, based on their previous activity.
For example, if you're a multi-product financial services provider, why not put motor insurance as the first thing a prospect sees if that's what they've been browsing on recent visits?  If you already know the visitor or have insight into their propensity for a certain product, don't make prospects work to find what they're looking for each time.  If you'd like to know more about how you can make your website personalised to every individual visitor with just a simple plug in, just get in touch.
Abandoned basket strategies
Abandoned transactions are a fact of life and they happen both online and in-store.  A customer considers buying something, but then changes their mind at the last minute, or simply isn't yet ready to buy.
It's why you sometimes come across a tin of baked beans randomly left in the bread aisle in the supermarket.  In a store, the staff will spend their time returning all these abandoned products to their rightful homes, but their chance to make a sale – along with the customer – has gone.  On your website, however, it's a different story.
If you have contact details (which is simple to check if you have your website connected to your online-offline SCV), you should be sending them a reminder that they've left the site without checking out.  Perhaps they were distracted and are glad of the reminder.  Or it might prompt them to reconsider the purchases if they weren't sure.
Even if you don't have a means of contacting them, then a pop-up chat window while they're still on your site can help to persuade customers to complete a transaction.
But consider what might be stopping customers from buying.  Might customers want technical help before buying?  Or are they likely to have questions about the product?  Or would assurance about your returns policy be appropriate?  What will tip the buying decision in your favour?  Live chat connected to your online-offline SCV makes sure that the Live Chat conversation is tailored, helping the customer more quickly and increasing the chances of securing the sale.  See our case study with Virgin Airlines on personalised Live Chat.
An intelligent abandoned basket strategy can increase sales dramatically.  Our work with a motor insurance provider saw an increase of 40% in the sales rate of policies, purely through personalising triggered follow-up emails and calls.
So make sure you're maximising the opportunity and not letting sales slip through your fingers.
Offer an incentive to buy
Timing is critical, but you might determine that some buyers need an incentive, such as a limited time discount, to tip them over in making a purchase.  If you offer such incentives too widely or too quickly, you risk giving away unnecessary margin.  Worse, you may gain a reputation that your published prices are not the 'real' prices, devaluing your brand.
Discounts have a place in your marketing strategy, but they shouldn't necessarily be your default offering.
The SCV comes into its own here too.  The better you understand your customers and prospects, the more you will be able to segment and profile customers who might need a further push to purchase.
Timing your communications
Hopefully, you'll have a tailored communications strategy planned out for each stage of your customer journey, and getting that first sale should be no exception.
As a minimum, you should be sending abandoned basket emails and appropriately timed follow-ups.  But the key is to make sure you're always sending the right message, to the right person, at the right time – especially in the planning and consideration stage.
Real time marketing allows you to control who is receiving what message, based on their current behaviour.  You can create a personalised journey across all channels, changing the prices they see on the website, the offers they receive, or when they receive a call, an email or a pop-up while browsing.
We built an Engagement Hub for Ageas, a leading financial services company, that ensures that all customer data was pulled together and delivered to every customer touchpoint, to ensure real-time decisions and personalised dialogue.  Even the call centre is provided prompts on the next best action for any given caller, and can see recent browsing behaviour, ensuring a truly personalised experience as the customer plans and considers their purchase.  You can read more about the Engagement Hub platform here.
If you'd like to learn more about the potential of real-time marketing to increase conversion, you can read more case studies here.
Of course, as well as using your data to maximise your marketing performance, don't forget the basics.  Make your site easy to navigate, allow customers to easily compare products across your site, use testimonials from satisfied customers, link to review sites, and add value through suggested purchases or product use.
Next month: STEP 3: The purchase experience.