There's no doubt that times are tough in the travel industry. Across the globe, travel companies are doing everything they can to protect their businesses in the face of the COVID-19 crisis.
At R-cubed, we have extensive experience of the travel industry and we know that operators are working as hard as they can to support their customers, reduce cancellations and restore the public's confidence in making future bookings. And we know that it's increasingly difficult as the situation changes not just by the day, but by the hour. Each day brings a new challenge and a new set of customers who are unwilling or unable to reach their destination.
Some companies were slow to react and tried to carry on with business as usual, but this quickly changed as messages of reassurance were sent out and customers were offered unprecedented flexibility in changing their bookings. We're helping our clients support their customers during this difficult time, such as using real-time behaviour to identify those customers that most need help.
But as important as it is to tackle the immediate challenges, you also need to have an eye on the future. At some point, the world will return to normal – or at least a 'new' normal. That's why the team at R-cubed have been thinking ahead. We want to make sure that our clients are as prepared as possible and because we believe that data holds the key to recovery.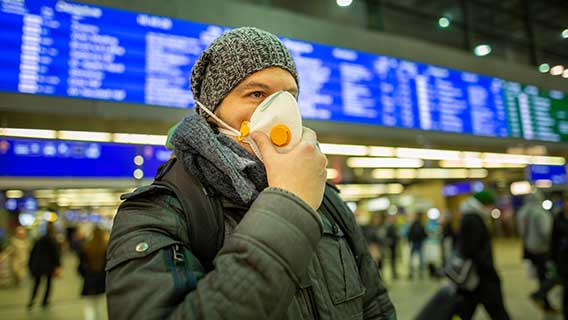 Are you ready for the recovery?
Once the current situation has subsided, demand will start to return. Many customers would have cancelled existing plans and are holding off on future bookings for now, but they will at some point want to travel again. Will you be ready to take advantage of this pent-up demand?
Once recovery starts, there'll be limited availability and most likely higher prices. Flight schedules have been reduced and some operators have suspended business, particularly in cruises, so customers may well be hunting round for an affordable vacation. And your competitors will be doing everything they can to target your most valuable with compelling offers.
So – will you be ready?
Look after your customers
As we all know, 80% of revenue typically comes from just 20% of your customers. They're the ones who will drive your 2021 sales, so you need to protect them at all costs.
We've developed a 4-step plan that will help you focus on and retain your best customers, ensuring you're building a business that can help you compete in the coming months and years.
Step 1 – Identify your 'Super Bookers'
Step 2 – Create an internal SWAT team from across the business to focus on these customers
Step 3 – Map out the customer journey
Step 4 – Use real-time website behaviour so you can act fast
Identify your 'Super Bookers'
Now's the time to find out who your best customers are. Your high spenders, your customers who return year after year, the ones who are booking upgrades and extras. This is the group that you need to fight for and they're the ones your competitors will be targeting.
So identify them, and make sure you can sort them into useful categories – by value, by destination, by holiday type and so on. You'll need this to communicate with them in a meaningful, personalised way.
Create an internal SWAT team to focus your best customers
If you're going to protect your best customers, you need your best team on the case.
Put together a 'SWAT team' from across your business to focus on them. Get the superstars from your marketing team, data agency and travel consultants together to plan and execute your activity and communications.
These are the people who will, if you empower them, identify customer groups, map out the customer journey and communicate with your most valuable customers with the right offers just for them.
Map out the customer journey
Next, you need to plan out the customer journey for your super bookers, but at an individual level. What destinations are they most interested in? What type of holiday do they like? How many people are likely to be travelling?
Identify the right products and put together the right communication plan. Use your customer data to plan the best way to reach each customer and review it daily. As destinations open up, change our communications to give specific offers to the right customers.
And monitor the customers you've ring-fenced. When you see them browsing your website, be proactive. Use pop-up boxes, live chat, outbound phone calls and abandoned browse emails. Offer them assistance, special offers and promotions. Don't just wait for them to buy. You need to deliver a VIP service to your VIP customers.
Here's an example of what a customer journey might look like. Schedule your communications now and make sure it's ready to go as soon as the time becomes right.
EXAMPLE: Create a 'VIP' tier for your best customers.  Send them emails targeted just at them, or use pop-ups when you recognise that they're browsing your site.


Recognising and rewarding 'Super Bookers' on email and websites
Use real-time data
If you're going to reach your customers at the right time, with the right message, you need real-time data.
If you don't already have it, a real-time plug in for your website will tell you the instant that any given customer is on your website and what they're looking at. You can then automate a message to that customer or pass details to your travel consultant to action while the lead is hot.
With real-time data, you'll be able to reach a customer in seconds and secure the sale before anyone else.
But even with real-time data, such a focused and effective marketing strategy as this will require a lot of resource unless you've automated your marketing to deliver the next best action. Our clients are using an Engagement Hub which can seamlessly deliver the right communication, through the right channel in real time.
If you start planning now, you'll be well placed to take advantage of the inevitable up-turn in bookings when it comes. And if you'd like to know more about any of the ideas in this article, please get in touch.