Email marketing is one of the fastest and most effective ways of reaching your customers. But in an age when our inboxes are constantly flooded with messages, you need to make sure that yours are getting through.
If you're new to email marketing, or just want to make sure you're covering the essentials, we've pulled together a guide of what to check for on your next email campaign.
1. Focus on your subject line
Your subject line should be around 10 words (or 60-70 characters) to have maximum readability and to increase your open rates. Test the use of personalisation in the subject – you may find it makes a difference, but make sure the data you're using is up to date and correct.
2. Make your call to action clear and compelling
Don't hide what you want the customer or prospect to do. Whether it's 'click here for your brochure' or 'visit our site to see our range of shoes', make it obvious and easy to find.
Great copy is one thing, but generating a response is what matters.
3. Use responsive design
95% of people read their emails on a mobile device. So if your email only displays well on a laptop, you're alienating a huge part of your audience.
Makes sure that your email renders well across all devices.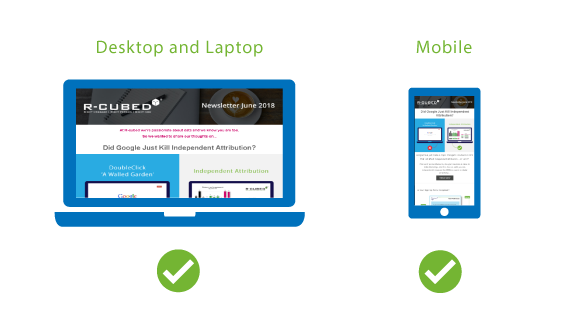 4. Test your content thoroughly
Don't just stuff your email full of messages and hope for the best. Test to see what content performs best.
What is getting the most clicks? What are people most interested in?
And take notice of any spam warnings. If your emails are getting caught up in spam filters, stop and make changes.
5. Use Dynamic Content
Change the content of your emails based on your customers' behaviour, preferences and characteristics. It might sound obvious, but don't promote your new garden furniture range to people who live in flats.
Tailor the content to what you know about the person and make each email relevant.
6. Create an effective template
A good template will not only give you a consistent, effective structure in which to create your emails, it will also ensure that you have included all the essential elements.
Be consistent in your positioning of your company logo, branding, fonts and remember to include an unsubscribe link and company details, as they are legally required.
Test different layouts to see what works, and rollout the most successful across all of your emails.
7. Don't forget your plain text version
Once you've created your html email, you'll need to create a plain text version.
Although most people won't see this, some devices or those with high security settings may block your email as spam.
So make sure you have a version that will get through to these customers. Many ESPs provide a button which will automatically create this based on your html version.
8. Make it easy to opt out
Make sure that all of your emails have a clear and easy to use unsubscribe option. It's not only good customer service, it's essential if you're going to stay on the right side of data protection laws.
Don't be afraid of unsubscribes – they're saving you time and money by telling you that they're not interested, and you'll damage your brand if you make it difficult for people to unsubscribe. And if they can't work out how to unsubscribe, they'll mark you as spam.
9. Test, test and test again
Regularly send test messages to yourself when creating your email and once it is finished, send it to yourself as a live campaign in order to see it the way your customer will.
For example, online view and unsubscribe links will usually not function in a test message so you'll want to see what these look like once it's sent.
Include your colleagues and ask them to review and proofread it. Often they will spot things you have missed, no matter how many times you've checked it!
10. Delay sending
Once you're happy with your email, delay your broadcast for at least 30 minutes to give yourself time to spot any mistakes and correct them. The most common time to spot an error is just after you've pressed the 'send' button!
If you think you've got the basics covered and are keen to learn more about how you can take your email marketing to the next level, have a look at our guide to email best practice.