By the time you read this, the change may even have happened. What is it? Let's hear it direct from Apple.
"Mail Privacy Protection stops senders from using invisible pixels to collect information about the user. It prevents senders from knowing when they open an email, and masks their IP address so it can't be linked to other online activity or used to determine their location."
Ouch.
Open rates are fundamental to the way in which email performance is traditionally measured, so this is a big blow. Apple haven't given a date for the change, but it's likely to be in September.
It's a particular problem as 85% of mobile email is opened on an iphone. And the Mail app is the number one email client in the world, accounting for 49% of all email opens.
In a nutshell, half of all email inboxes may no longer let you know when the user has opened your email – in fact, it will look as if ALL Apple users have opened your email. Overnight, your open rates will apparently rocket but it'll be due to all the false-positives.
But you'll have more to worry about than just open rates.
Follow up emails to non-openers
It's common practice to send reminders to those who didn't open the email first time round. But how will you do that if you no longer know who opened it?
True engagement levels
If you use email opens as a proxy for engagement – and therefore how long you should keep customer data in accordance with your privacy policy and data retention rules – you'll be faced with a group of customers who are apparently engaged simply because they own an iphone.
Location based content
You'll no longer be able to use location-based content, such as weather information, travel updates or time zones. How big a problem will this be if you're in the travel or leisure industries?
Attribution
If you can't tell if someone's opened an email, how will you attribute a sale to it?
Send time optimisation
Finding the best time to send an email will become a very blunt tool, as it'll no longer be possible to see the opening times by individual.
The good news is that Mail Privacy Protection won't be turned on by default. Users will be presented with a choice as to whether to turn it on or not. But with the prominence of privacy concern amongst consumers, it's reasonable to expect that the vast majority will not be selecting the 'don't protect me' option.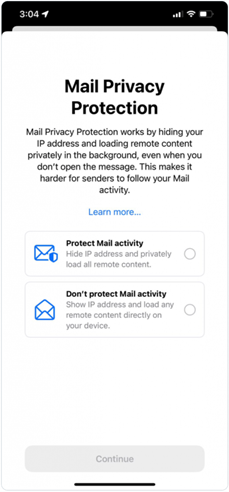 But us marketers have faced changes before. We overcame the perils of GDPR, the divisions of Brexit and even the unimaginable disruption of Covid-19, to name just a few. We've all overcome challenges in the past and we'll learn to adapt to this change as well.
So the big question is – what can you do about it? Here's your action plan.
1 – Focus on click reporting
The good news is that click reporting will be unaffected, so you should start using that as the basis for your reporting. Make your emails so engaging, so compelling that those who read it will have no option but to click through to your website.
And with click-throughs, you're measuring people who are actively engaging with your messages, rather than just scrolling flicking through their emails. So it's a far better measurement of real interest.
2 – Understand where your visitors are coming from
Use Google Analytics to see what proportion of your visitors are coming to their website from Apple (look for iphone and ipad devices, or the Safari browser) to determine how much of your customer base it will affect.
And if your ESP reports which email client is being used, identify the Apple users and flag them in your data.
3 – Test, test and test again
Make regular testing part of your DNA. Test creatives, subject lines, personalisation, sending time, long v short copy – everything – so that you create the best possible email. Not being able to see open rates should never stop you from sending your best work possible.
4 – Redefine your segmentation model
You'll want to refresh your segmentation to remove email open rates as a variable, or all your Apple users will be sticking to the top of your models, even though their engagement may not have changed.
5 – Clean up your lists
Now's the time to sort out any deliverability issues that you've identified through your open rates. Remove all those people who never open your emails and suppress them from further broadcasts. In future, you won't be able to use open rate data as a sign of deliverability problems.
6 – Create a proxy segment to add as a measure
Do you have non Apple users who perform in a similar way to Apple segments? If so, you can use these groups as a guide to the performance of your iphone users.
7 – Future-proof your attribution
If you don't know if an email is opened, there are still ways of knowing if your brand messages are getting through – just as radio or display impressions can be measured.  We work with our clients to fuse results of econometrics measurement, for example, to future-proof attribution against third party cookie and privacy changes just like this!
And if your attribution is at a truly individual basis, and you can track each sale, some shrewd analytics can help you understand what role the email played (whether opened or not) in that individual's conversion.
8 – Talk to your customers
Don't forget, there's still a way to find out if your customers are still opening your emails.
Just ask them.
If your engagement rates are dropping and you're unable to see open rates, why not ask your contacts if they still want to receive email from you before you make the decision to suppress them?
A quick "We haven't seen you around recently' email, with a simple click if emails are still wanted, can both confirm if your emails are being read and also re-engage customers. And on top of that, you've won a hard consent to emails which, even if not necessary right now, may come in useful in the future.
So, times they are a-changing, but there's no need to panic. Make sure you understand which of your customers will be affected, assess the potential impact and track the most appropriate measures for your business.
But Apple's move is a reminder that privacy is increasingly top of the agenda for marketers, so having your data properly organised and understood needs to be your top priority.
If you want to make sure that your email campaigns are being effectively measured, or even that every channel is working as hard as it can, we're always happy to help.