Christmas was looking grim for millions of children all across Europe today, as the full impact of GDPR on Father Christmas's data processing operation came to light.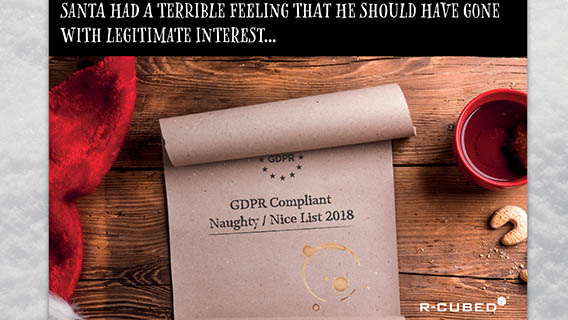 A SpokesElf for Santa plc, the global gift distribution company, released a statement earlier this morning, revealing a significant drop in the company's customer base.
"Last year, we delivered presents to 79,254,344 children in Europe", he said.  "This year, we're looking at a slightly smaller number.  173 to be precise."  When asked to explain the dramatic drop in numbers, the Elf put the blame squarely at the door of GDPR, which came into effect earlier in the year.
"As you know, we process data on billions of children across the world.  Name, address, likes, dislikes, good deeds, bad deeds…you know the sort of stuff.  It's how we profile everyone into the naughty/nice segmentation.  It's an immense operation.  Anyway, in the spirit of honesty, openness and goodwill to all men, we took the decision to use consent as the basis for our processing.  So we asked everyone to opt in."  He shook his head sadly.  "The response wasn't good.  In hindsight, it was a stupid idea.  Why didn't we go with legitimate interest like everyone else?"
Parents across Europe are left with the task of explaining to their children why Santa won't be coming this year.  The response of Mr and Mrs Perkins, of Colchester, is typical.  "I think we might have got an email about giving consent or something", said Mrs Perkins, "but to be honest, we got so many, that we might have just deleted it.   I mean, come on, did anyone really read all those emails?"
Although over 80 million emails were sent out, many went directly to trash.  Of those that were opened, click through rates were low.
"I think we also had an issue with brand recognition", said the Elf.  "We operate under a range of different brands – Santa Claus, Father Christmas, Saint Nick, Pere Noel, Hoteiosho and so on.  We feel our sender address may not always have been recognised by our European customers and may also have been caught in spam emails.   However", he added, "on a positive note, the other continents are unaffected and we'll be delivering as normal outside of Europe."
The CEO of Santa plc, Father Christmas, is believed to be infuriated by the outcome of this year's nice and naughty lists. "He thought everyone would want to opt in", said the Elf.  "I mean, why wouldn't you?  Still, it lightens the workload for us considerably.  The whole 'making a list and checking it twice' business won't take five minutes this year."
Father Christmas was unavailable for comment.
On behalf of everyone here at R-cubed, we'd like to wish you all a very Merry Christmas and a Happy New Year.