In short – the answer is … No, Independent Attribution can still be achieved.
However, the news that Google is now raising the data drawbridge and removing access to DoubleClick IDs from 25th May certainly has both clients and agencies alike struggling to see how on earth they can independently measure the £Millions spent on digital advertising and attribute success across both on and offline channels.
The removal of DoubleClick IDs represents a major problem for companies who are reliant on Google DoubleClick Manager.  The inability for marketers to link up their offline and other customer data with their online spend means they will get, at best, a very partial view of the customer journey, which is a backwards step in terms of today's joined up measurement.
But multi channel attribution is still alive and well, through the use of other tools.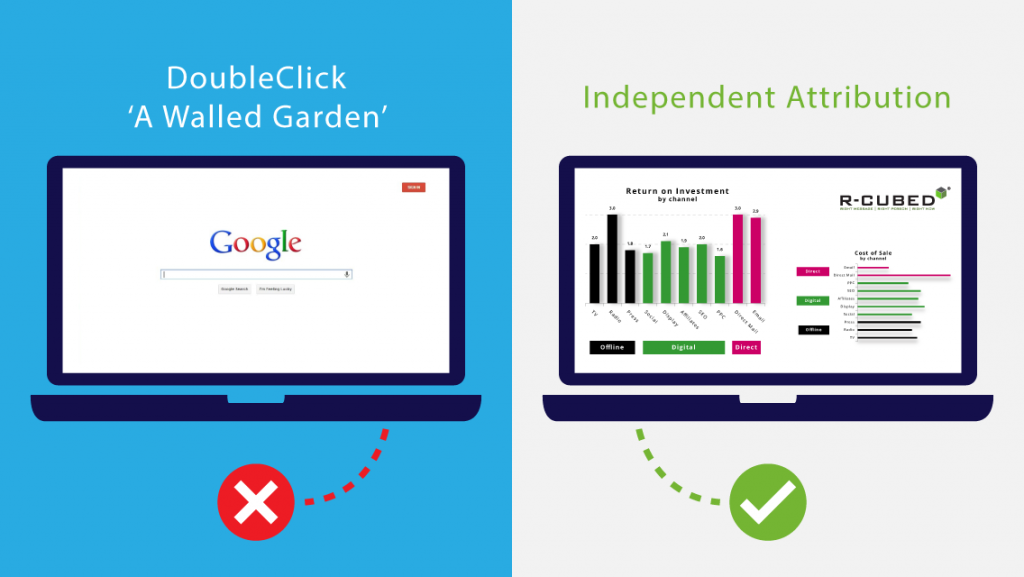 Google has often been the favoured approach for those wishing to avoid the need to create their own customer data platform (CDP), this announcement from Google means that those managing their own individual data are now ahead of the game. However, the good news for the rest is that collecting first-party online behaviour and impressions data at an individual level is easier than they might think.
For instance, R-cubed has an approach that tracks the complete customer journey, allowing our clients to match their digital activity at an individual data with data from their own databases, including offline transactions, and the all-important impressions data.  It's simple to use, it's transparent, it's GDPR compliant and can be up and running quickly.
This solution was born out of our clients growing need to have full control and visibility of their customer data, fuelled not just for GDPR compliance, but the need for transparency in how their valuable first party data was being used by others at all stages of the online advertising chain.
GDPR does represent a number of challenges, but it should also be treated as an opportunity to do things differently – and even better – by taking control of customer data and making sure that reduced access to certain walled gardens doesn't allow people to start marking their own homework.
If you want to hear more about the alternatives to Google for attribution, then drop us a line and we'll give you a demo.