Marketing is all about building relationships with your customers. Shopkeepers have been doing it since the beginning of time, personalising their service to everyone who comes through the door.
Times have changed, but the principles remain the same. We should give each customer the experience that is suited to their own unique circumstances, at the right time.
So why do so many companies show every customer the same website? Why not personalise it to each customer, based on what they're doing right at that moment?
Real time marketing
Real time marketing means using your knowledge about a customer, and giving them the right experience or messages at that time. Right message, right person, right now, as we say.
As soon as you see a customer (or prospect) on your site, you should be changing what they see, when they see it and the messages they get. It meets customer expectations, improves their experience and it boosts your bottom line. And you can do all this with a simple piece of code added to your website.
So how can you use real time to improve the customer experience on your website?
Personalise what the customer sees
When a customer returns to your site, you can change what they see. Put the products they are most likely to buy on the home page. Don't show them Spanish holidays if they prefer to go to Thailand. Why show them products over £100 if they never spend more than £20?
You can change your products, pricing, page layout, whatever you need to, to create a much more effective selling platform for each customer.
Save those abandoned baskets
How many visitors to your site leave without buying? Are you doing enough to save them?
Why not present a live chat option when you see someone hesitating at check out? Or send them an email or make a call to entice them back?
Remind them that you're still there, waiting to be of service and save some of those lost sales!
Welcome your customers back
You'll be able to instantly recognise returning customers or prospects. Greet them by name – or take them straight to their favourite page.
Make it easy for them to pick up where they left off, and you'll make it easier for them to buy from you.
Identify potential fraud
Real time intelligence can also prevent losses, by identifying potential fraud.
For example, if a customer tries multiple credit cards, or different delivery addresses, you might interpret this as a sign of fraud and put in counter measures, such as a customer service call, or a block on the transaction.
CASE STUDY: Virgin Atlantic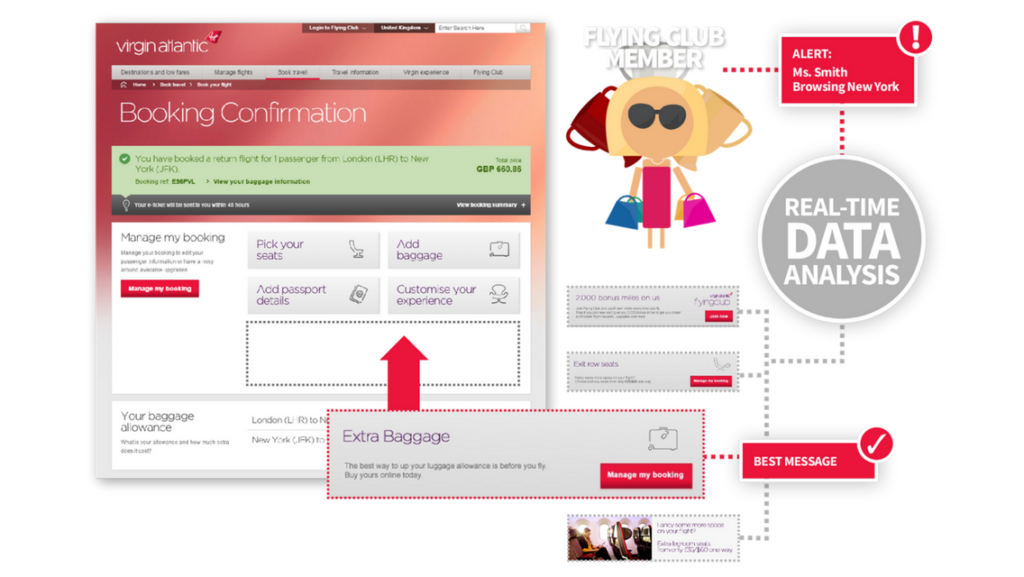 We put our know how to the test when Virgin Atlantic asked us to help improve the booking experience for their customers.
We took everything Virgin knew about each of their customers, their relationship with the brand and what they were doing on the website right at that moment, to create a truly personalised booking experience.
We changed the offers that customers saw, so there was no more 'one size fits all' website. We also added a live chat function where the customer could talk to a sale advisor about their personalised offers.
The results were startling. Sales of extras – such as seat upgrades and meals – increased by 11% across the customer base as a whole.
Watch the full case study here.
For a free demonstration of how real-time personalisation could work on your website, simply contact us here.